Friday, Jan. 12, 2007 - 3:32 p.m.
Baby Brady, and the Gory Details
I'm pooped. Woke up EARLY Sunday morning not feeling very well, got online then fell back to sleep til 7:00 a.m. ish. By that time my stomach was hurting, and my innards were out of whack like they had been the day before. Since we didn't get the room painted the day before, we decided to do it in the morning. However, when I went to the bathroom and saw a little bleeding I announced to Tarik that I was getting in the shower. Him: "Why are you getting a shower if we are painting today?" Me: "We may not be painting today." He took the hint. By the time I got showered and dressed, Travis taken care of, I determined that yes, I was having contractions and lay down for a little while to time them. By 9:00 a.m. I decided to call my doctor and tell him what was going on. He told me to go on in. Tarik's mom had to come and get the kid and then we were on our way.
In the car the contractions kept getting stronger, but were still not regular, but were happening every 2 to 5 minutes. Got to the hospital at 11:00. They checked me about an hour later and I was at 5 cm. I think sometime around 3 or so I got my epidural (although I kinda wish I had done it sooner when my contractions were further apart so I didn't have to endure several while trying to hold perfectly still while someone was inserting a needle into my spinal column), and it didn't take. It went in on the right hand side and only numbed my right leg and did nothing to deaden the contractions. So the anesthesiologist (who I didn't particularly care for right off the bat; odd bird) had to pull the needle out and do it again. This time it went in down the middle and my right leg got a full double dose of the anesthesia. My entire lower body from my belly button down was totally and utterly dead numb. I couldn't feel a thing and I didn't like it. The last time, with Travis, the epidural was PERFECT. It went in right the first time, and only deadened the pain, but did not eliminate all sensation below my waist. I could still feel everything, it just didn't hurt. Not this time.
Well, this second dose of epidural caused my blood pressure to take a dive and the baby's heart beat to almost come to a screeching halt. I didn't know this of course because the three nurses and Dr. Strange who were in there scurrying around to try and fix it didn't really have time to tell me what was going on. But the situation resolved itself and everything was better. About 3: 30 or so they checked me again and I had dilated 4 cms in 30 minutes to 9. Then 15 or so minutes later my doc came in to check me out and even though I wasn't dilated a full perfect 10 cms he said it was OK to go ahead and push. Now, before I had the epidural, each time I had a contraction I felt like this kid was going to come shooting out my ass. Jen Ellis said she thought it was because he was face up. After all of 10 pushes over 15 or 20 minutes, he was out and crying almost before he was all the way out. And yes, he WAS face up. Nice going Jen! Ever thought about going to med school and becoming an OB? Or maybe even a midwife? It took something like 5 hours after they stopped the epidural drip for me to get feeling back into my right leg.
I was SURE he was going to be bigger than Travis. Well, he weighed less, 6 lbs, 11 oz., but was 20.5 inches long. So tall and skinny. And here's the kicker (and I have said all along that this was not out of the realm of possibility), he is BLONDE! At least for now. His eyebrows are blonde and his hair is a very VERY light brown with blonde overtones. He looks more "newborny" than Travis looked I think because he is so scrawny. But after his initial weight drop post birth, he has already put on 3 or 4 ounces. So I am trying my best to get him fattened up so he doesn't look like a little old man, and looks more like a bouncing baby boy. OH! He does have a name. Brady Stewart Shafik Bakri. Just names that we like and one family name. Guess which one.
At home, its an adjustment to integrate a new baby into the scheme of things. My life, as much as it can be with a toddler, has actually been pretty structured. Now I am thrust into a trial by fire of tending to a two year old and a newborn and making sure all needs are met for both. Travis, bless his heart, has been a trooper. For the first night Brady was home, he wasn't so sure about what to think, even though this whole time we have been telling him about the baby and having him say "hello" to the baby in mommy's belly. Now he will go up to him and pat him on the head and say something really sweet in two year old toddler language. We still have to remind him though not to be rough around him. But I am really proud of him for being so accepting. I am also dealing with the post partum weepies, NOT to be confused with post partum depression. The "weepies," as I call them, and in the past referred to as the Baby Blues, are the opposite end of the spectrum as the beginning of pregnancy and really should be referred to as "Hormones Gone Wild." The littlest things from happy to sad can set me off but its getting out of my system pretty quickly. I have also discovered that I am healing up MUCH faster with this one than the last. I've been home since Tuesday, and have done loads of housework including laundry and setting up Travis' new room (MUCHO MUCHO THANK YOU'S TO MY PARENTS WHO PAINTED THE ROOM AND PUT TOGETHER THE NEW BOOKSHELF WHILE I WAS IN THE HOSPITAL ALL OF THE 48 HOURS THAT I WAS THERE), putting the books on the new bookshelf, cleaning up the baby room, and just tidying up. My post partum girlie nasties are minimal, and if you have to ask what they are, you don't really want to know. My Cthulhu arse is starting to fade away. And oh sweet bliss of blisses, I can touch my feet and actually pamper them. And let's not forget that I have already dropped 20 pounds. Only 20 more to go and at least 10 of that should come off in the next week or so from fluid loss and breastfeeding. I am most likely on my own for the rest.
So there is my latest and last adventure in birthing. I have two scrumptious children who are so sweet and perfect, and I want to keep it that way.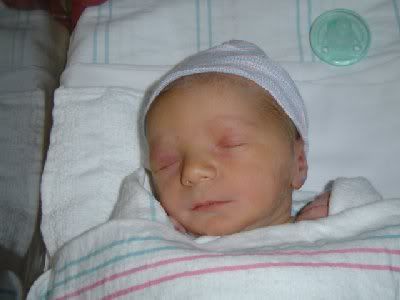 ---
Song Virus du Jour: Not that I have a song virus today, but my thought for the day is "Barry Bonds is a royal prick!"
---
Useless Trivia du Jour: Here is a list of events and birthdays for January 7, the day of Brady's birth.
---
Preggo Craving du Jour: To NOT be pregnant again!
3 comments so far