Monday, Mar. 12, 2007 - 3:28 p.m.
Cheers, and Good Luck!
Saturday night we left the babies with their grandmother for the evening and went to a crawfish boil to say farewell to a very dear friend of mine, Stephen Dornbos. Stephen is enlisting in the Army full time and with the intent to go career and doing this while about to turn 40 in another year. I have no idea where he will be shipped off to nor when I will ever see him again. I have known Stephen since 1993-ish when I first got my start in the Houston community theater scene. I met him at a Company OnStage party and we have been friends ever since. And despite our long friendship, we have actually done only two stage productions together; a children's theater production of "Sleeping Beauty" in 1996 at the Company OnStage, and in 2003, I cast him in the title role of the production of Dracula that I directed for UpStage Theatre. We have worked together on many different projects since then including a few of his self produced independent films, namely "Interview With the Scottish Vampire" which he was kind enough to blame me for (read the link all the way to the bottom), and it was ultimately Stephen who convinced me to audition for the Texas Renaissance Festival. He even attended my audition with me for moral support and the rest as they say, is history. A few years ago, while working as a graphic artist, Stephen became a victim of what has ultimately become the symbol of corporate greed and fraud, that being the Enron implosion. While there as an outsourced talent, he was actually on vacation when everything came crumbling down and had to return the next day to clear out his belongings. The loss of that contract hit him hard in the wallet and it was about two years (perhaps longer) before he was able to find something else long term. In that time he made the decision to move out of his apartment and move in with his long time chum's parents. We also offered him a room in our house til he could get back on his feet. He also lived with another friend in Quail Valley. And because storage was costly, he gave away and/or sold off many of his belongings. We now have some pine shelves in the baby's room that belonged to him once. This unfortunate turn of financial events eventually led Stephen to join the Naval Reserve (incidentally, he was in the army a very long time ago and was able to attend the University of Houston for his English degree thanks to the GI bill). And in the interim he was able to find graphic design work, and other contract positions. He finally decided that he wanted to go into the army full time, and for the long haul. He will go in as an enlist and eventually he should go to Officer Candidacy School. He is also hoping to go to Mandarin school to learn that language. He will be a Fire Support Specialist, in essence he will be telling people where to shoot. He could end up in Afghanistan or Korea. He thinks Afghanistan though. I just hope he comes back to us in one piece. Good luck Stephen. I will miss you terribly. You've been and still are a very good friend and much of the direction my life has taken the last several years can be attributed to you.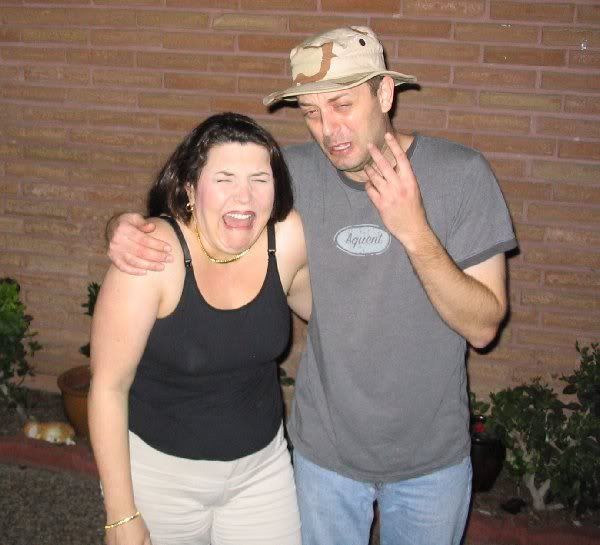 0 comments so far