Saturday, Mar. 24, 2007 - 7:30 p.m.
Bluebonnets!
Now that we are parents, and Tarik is home from his overseas gig, AND its spring and the wildflowers are out in full force, its pretty much required by law that we take the kiddos and have their photos taken amongst the flora. So we loaded up the familymobile this morning, and headed out 290 to find a good spot. In Washington County, on the other side of the Brazos, on a nice slope beside the freeway is a huge sign welcoming you to Washington County and they have seeded the hill very nicely. So we pulled off there and we, along with the myriad of other families, plopped our kids smack down amongst the flowers. First off, they really are gorgeous. Second, they really do smell good! Trav didn't really feel like sitting, but instead ran around, picked a few, and stuck them right up in his face to smell. We got some great shots, and one kindly stranger was even nice enough to offer to take a photo of all of us together.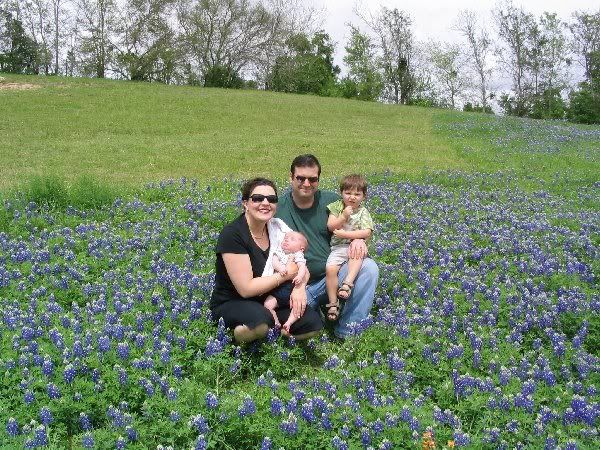 ---
Song Virus du Jour: "How to be a Millionaire" ~ ABC
---
Useless Trivia du Jour: Seriously, $1.00 for an ENORMOUS scoop, which is more like a double scoop. I had banana split.
1 comments so far