Thursday, Nov. 02, 2006 - 10:55 a.m.
Pirate Travi
Sigh..... I love my little guy!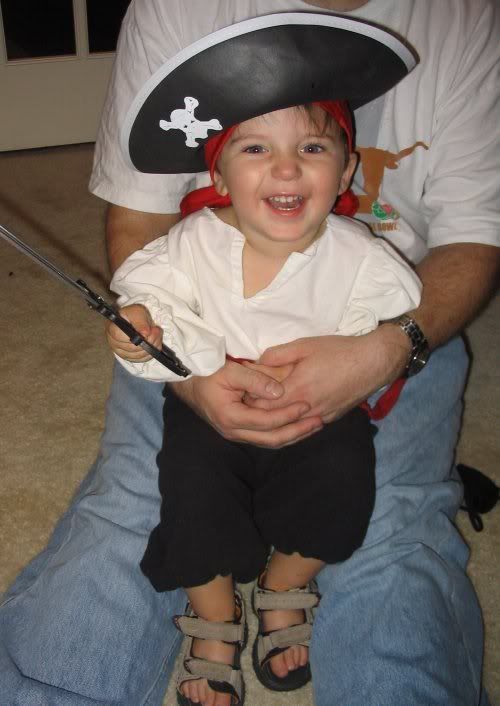 ---
Song Virus du Jour: The Theme from "Tales From the Crypt" ~ Danny Elfman, Composer
---
Useless Trivia du Jour: I think this month, I will do UTDJ as a bit of a history lesson regarding Thanksgiving. And today I am focusing on Squanto, the Native American who assisted the Pilgrims at the Plymouth Settlement (better known as the Mayflower passengers) through their first winter. They never tell you some of the details of him in grammar school history. So, here are a few little known facts. His tribal name was Tisquantum. He had been kidnapped and taken to England by the English in approximately 1605 and remained there for approximately nine years, which would explain how he was able to easily help the English settlers in Plymouth. There was no language barrier. He was eventually returned to his tribe, then kidnapped again and taken to Spain to be sold as a slave. He eventually returned to New England and settled with the Plymouth (Mayflower) group.
---
Preggo Craving du Jour: Shrimp Tacos
1 comments so far